Description
Creative Art Postcards and Communication Tools
13 piece series of 5″x7″ postcards
Featuring sentence stems & structures
To encourage authentic & clear communication
Woven into nature art scenes to inspire use and retention
These are large postcard sized and ready to be mailed with an envelope stamp for .60¢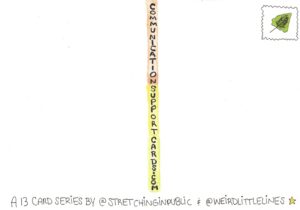 Ways to use:

Choose a sentence you think would help with a trying person in your life
Place a card on your refrigerator, altar, dashboard.

Prepare for your next visit to see your parents 😉

Mail to a friend who you think would benefit from using the sentence in their life!
Use in any way you see fit!

Come up with a new way to use them.
Share with family and friends so that more clarity is invited into your interactions.
Some examples of the sentence structures:
Are you looking for comfort or support?
Is there any way you see me supporting you?
I am telling myself a story that _____. Is that true?
This tool was conceptualized by Vinny Bonanno, founder of Stretching in Public. Inspired by their studies and work with authentic relating circling, Katonah Yoga, and Life! Vinny created the initial series as a wedding gift, to ignite clear authentic communication as the couple ventured into union with each other.
The artwork is all hand-painted with water color by Marianna Phillips, founder of Weird Little Lines. Her touch took the concept to a beautiful, attractive and magical level!
The series is a collaborative venture by the two and has brought joy and fun to those who have experienced the cards so far!
Order a set and receive 13 pieces of inspiration, altar cards, snail-mail stationary, and a unique edition of art from working artists. Your orders of these creative art postcards and communication tools will invoke and inspire future creations!