Description
"Would you be willing to …?"
How do you ask someone to do something for you?
"Could you… massage my neck?" 
or
"Can we talk about what happened last night?"
The person you are asking is more than likely capable of the request… but are they into it, here for it, willing to do it?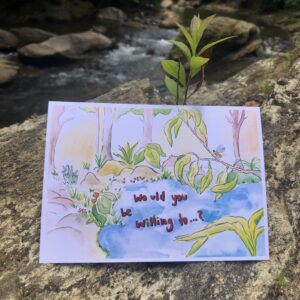 Would you be willing to …?
A clear question allowing the person you are asking the space to contemplate if they are willing to do the thing you are asking of them.
Sometimes in relationships it can become very easy to say 'yes'.
Yes I can rearrange my schedule to fit yours.
Yes, I can meet your needs and put mine on the back burner.
Be proactive, and try asking in a clear way
How to use it
Have something to ask someone?
Maybe it feels like a big ask… try writing it out using this sentence stem:
Would you be willing to…?
Also, use as an alternative for 'could you' and 'can you'.
Send as a postcard, hand the card to them, or simply use the sentence stem verbally!